Read Time:
3 Minute, 14 Second
The 90s marked a turning point in the style when fashion designers and the whole world were seized with a craving for minimalism, grunge and glamor at the same time. For the first time, catwalk shows became available to the public, not just the fashion elite, and as a result, designers began to create more sophisticated products and present real shows at their shows. Naomi Campbell, Linda Evangelista, Christy Turlington, Claudia Schiffer and Cindy Crawford crystallized the movement of supermodels, while the main fashion players of the decade, including John Galliano, Tom Ford, Alexander McQueen and Mark Jacobs, continued to determine the aesthetics that will influence the fashion world for decades. 
Today Fashion Weeks have been canceled everywhere, shows will no longer be the same, and what format is waiting for us (and whether it is waiting at all) is still unknown. Suddenly and extremely hard, we entered a new era. 
We suggest recalling the most memorable and brightest shows of the 90s in order to permanently keep them in our memory.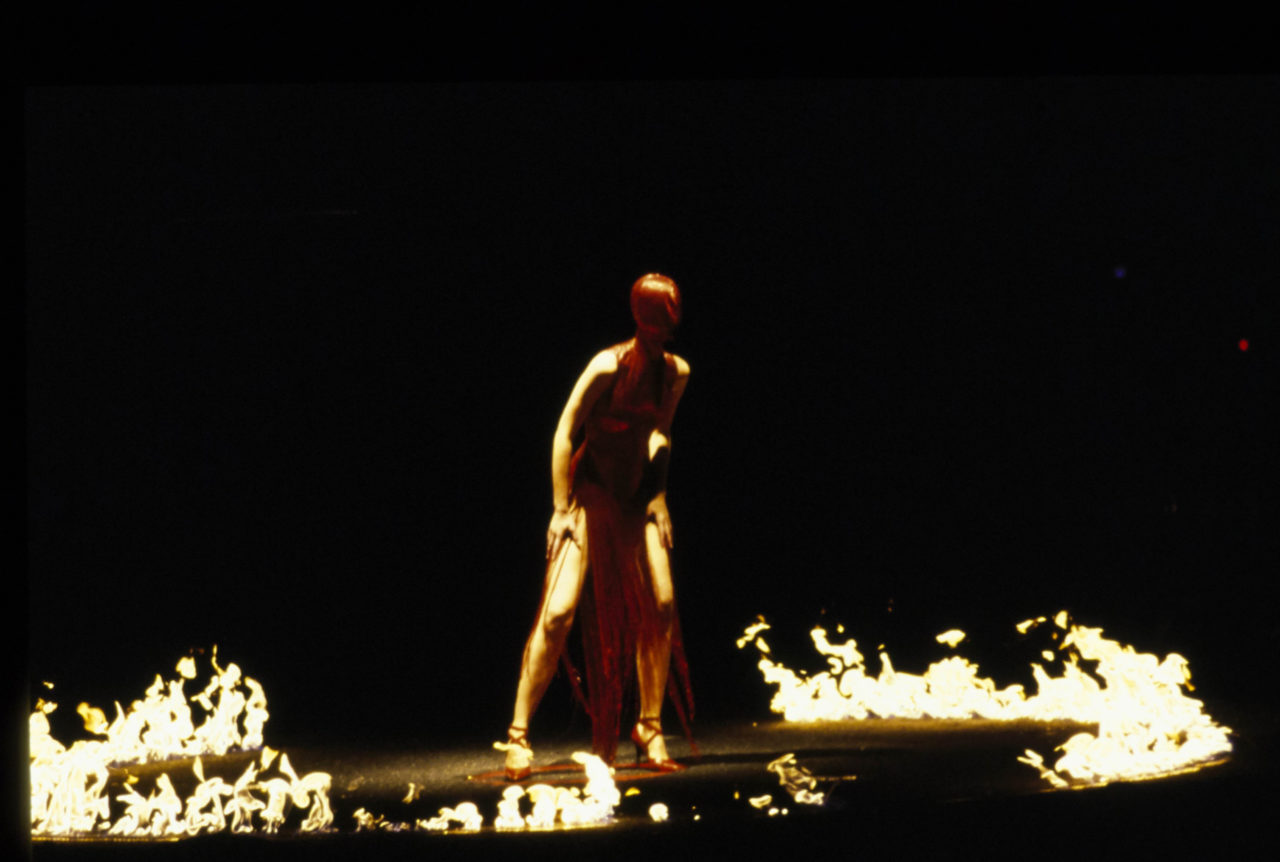 One of the first designers who put the stars in the front row at their shows and started shooting them in advertising campaigns was Gianni Versace, thereby linking pop culture and the fashion world. After the opening of the boutique in Milan in 1978, the Italian designer began to expand the scope of what is permitted in fashion, creating provocative, ultra-sexy outfits for women ("Armani dresses wives, Versace – lovers", as one of the editors described the brand style at that time).
For his historic show in 1991, Gianni invited Naomi Campbell, Linda Evangelista, Cindy Crawford and Christy Turlington for a joint fashion show. In this composition, a group of models first appeared in George Michael's music video Freedom! '90 ", which provided them with fame far beyond the world of fashion.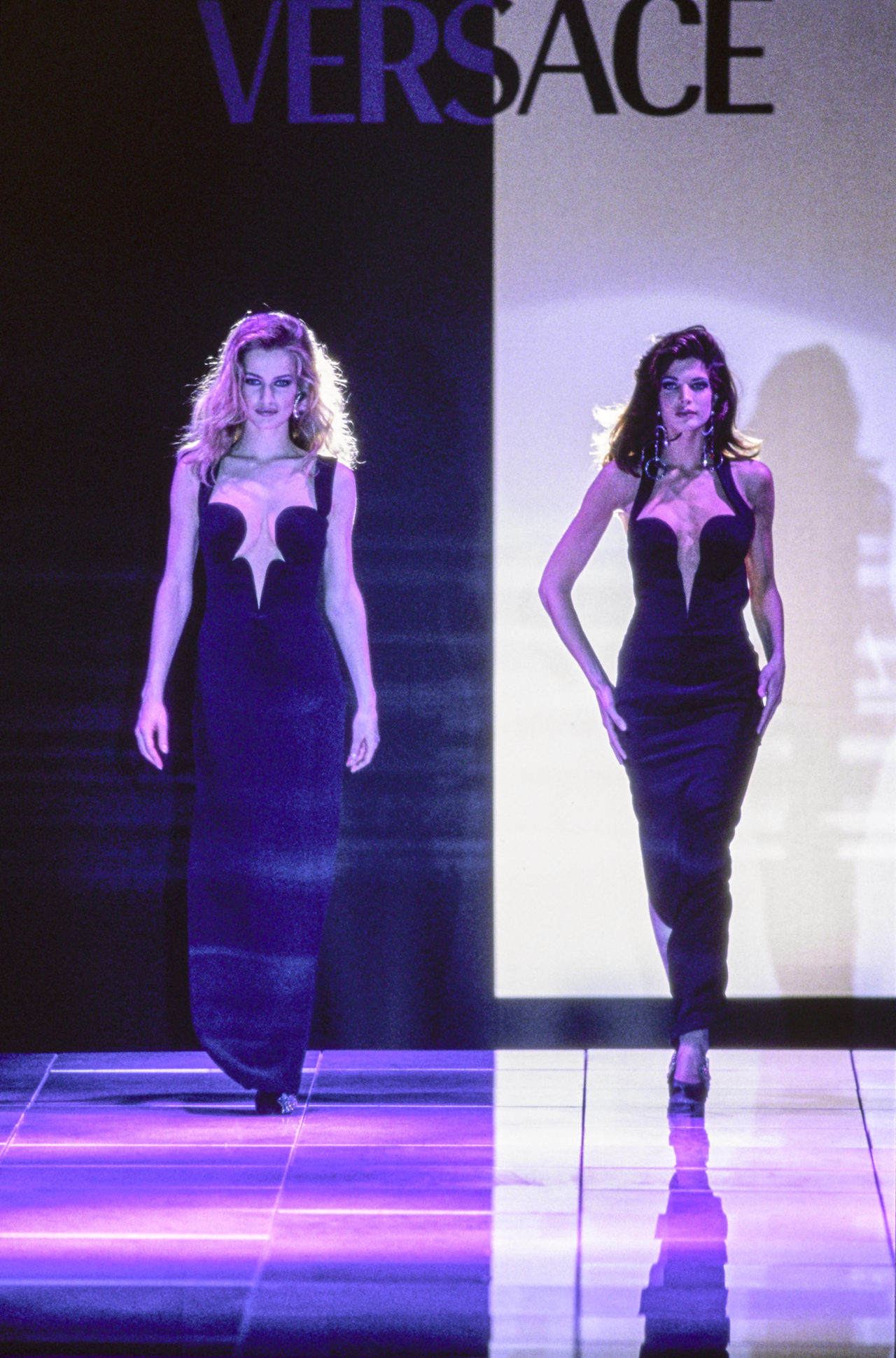 Although Jean-Paul Gaultier did not have a professional education in the field of fashion, his inborn talent impressed Pierre Cardin so much that he took him as an assistant. Gauthier founded his brand in 1976 and became an innovator in French fashion, creating new provocative forms of self-expression (the cone-shaped bodice that Madonna wore during her "Blond Ambition" tour in 1990) and things of exceptional cut, as well as showing interest in sociopolitical issues . In September 1992, Gauthier first showed his show in America in support of the American AIDS Research Foundation, presenting more than 140 images to 650 guests. A moment that will never be forgotten – when Madonna came to the podium, expressively removing her jacket and showing off her bare chest. It has been a show for ages, and Gauthier has raised over $ 700,000.
This Versace collection was called Miss S&M, and it created a real split in public opinion. While Helmut Newton was delighted with the collection, the bandage dress caused a flurry of outrage by fashion critics. Suzy Menkes said she did not want a woman to become a sexual object. To demonstrate his fetish collection, which included studs, collars, leather and a sword belt, elegantly sitting on top of a black dress, Gianni invited Claudia Schiffer, Naomi Campbell, Christy Turlington, Linda Evangelista. Despite the scandalous glory of the collection, Versace gave rise to a new cult, and all the most recognizable fashionists soon walked in bandage dresses, and Gianni joked that half-Manhattan now wears harnesses.