Read Time:
4 Minute, 18 Second
Models with a non-standard appearance come: FWD  reflects on new formats, heroines with unique types, unshakable by any canons of conventional beauty, whose appearance pushes the limits of model standards Many of us, flipping through magazines or looking through the next show, catch themselves thinking that fashion now prioritizes a little differently. The principle "the uglier, the more beautiful" is declared almost fundamental in the new season. Fashion-obsessed people choose ugly fashion in all interpretations: starting with clothing, heralds, among others, are Gosha Rubchinsky, who celebrates the street aesthetics of the 1990s, and Demna Gvasalia, who creates collections for Balenciaga and her own brand Vetements, and ends with models. The latter will be discussed further.
Far from the world of fashion, people do not miss the opportunity, if necessary, to look through magazines with photographs of models that have a specific appearance and therefore fall outside the framework of idealized ideas about female beauty. "Yes, she's ugly!", "And this is a model?" – that's just not talking about Molly Bair. "Unconventional appearance", "atypical beauty", "informal and unique person" – professionals select all sorts of words to describe a trend whose popularity is growing exponentially, but it seems they mean the same as people far from fashion. Sticking ears, colorful hair, diastema – the appearance of these models push the limits of model standards. All this should not detract from but remind of the beauty of the human appearance in all its diversity.
Molly Bair
In the meantime, a native of Pennsylvania has a firm gait conquering the podiums of New York, London, Milan, and Paris. Designers are very enthusiastic about her and wish that the "alien" girl (another eloquent epithet for the lop-eared owner of a broad forehead, a strange chin, and a small mouth) would appear in their advertising campaigns and even close the show (and this privilege does not come to all supermodels). Time has placed all the points above the "i" – a model with a peculiar appearance today is not just a norm, but a new trend.
And Molly Bair is not the only girl whose appearance is subject to such an active discussion. Brunette and cut to the ground Tami Glauser, the "heroine of Renaissance painting" Sierra Skye, half Mexican, half Japanese Issa Lish with an angular and androgynous appearance, Shantel Brown-Young, whose skin is stricken with vitiligo, Brunette Maffy with signs of strabismus (in other words, strabismus ) – such a variety of types can be called a real parade of accepting any flaws.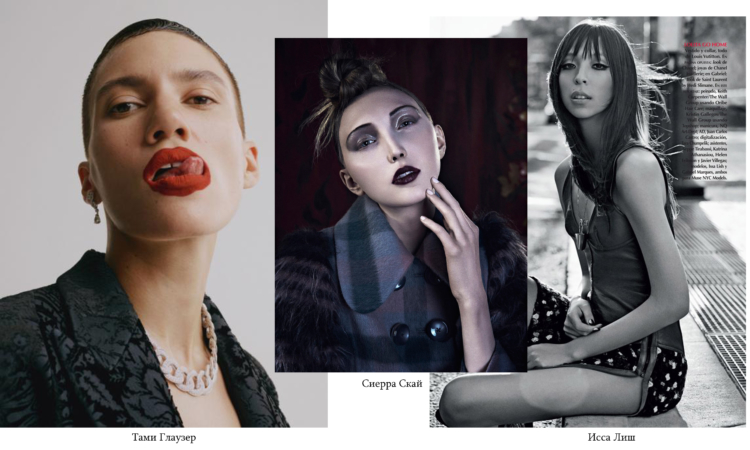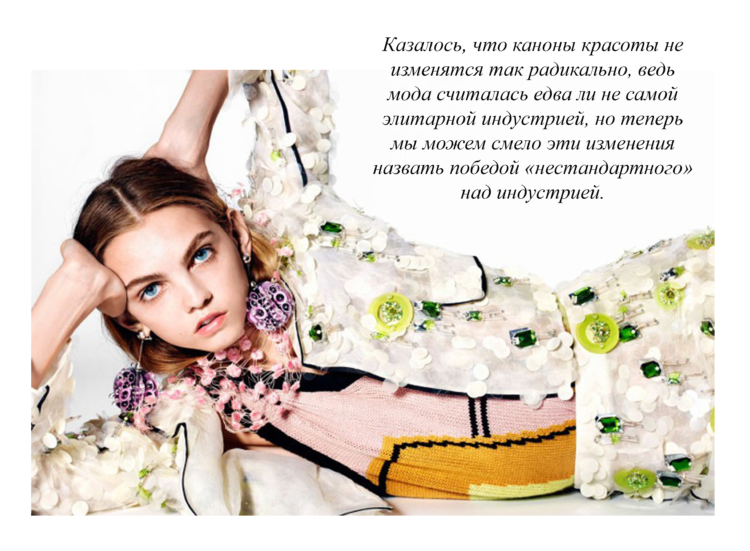 No half-hints, the meaning is very transparent: models with non-standard if not the body, then at least the person took their place in almost every show. An unequivocal discovery can be called a brutal girl with an angelic face, but sad eyes Ruth Bell. The girl in the modeling is not a beginner, but the real glory came to her after a haircut under the zero for the Lubbock Alexander McQueen. Shaving her hair, 18-year-old Ruth Bell increased her productivity in one season by the number of shows 15 times: with the "hedgehog" Ruth Bell immediately became the newsmaker of the season. She shone in Milan on the show Gucci, Lanvin, and Versace, and in Paris, she became the new muse of Edie and the face of the advertising campaign Saint Laurent. Now the models of the moment look exactly like that.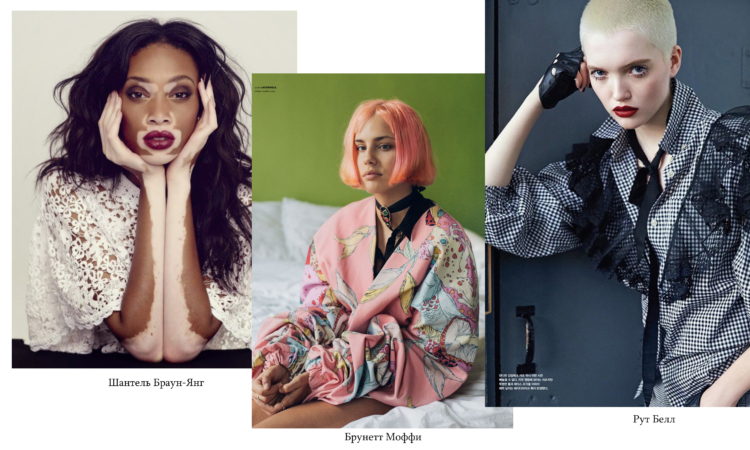 It seems that the need for such models has become so great that scouts have discovered a real hunt for unformatted, inorganic persons – excessively large lips, shaved head, a gap between teeth, wide open or deliberately small eyes. In the UK there is a model agency Anti-Agency, in which girls with non-standard appearance work. These models have successfully blended into advertising Adidas Superstar and the pages of concept magazines like Pop and iD. Serious competition to this agency is AM Casting, followed by Angus Munro, who worked at Elite with Naomi Campbell, Anya Rubik, and Claudia Schiffer. Modeling agencies seemed to smell the wind of change and collect under one roof models of all races, ages, and complexes.
Today priorities are really different: it's not enough to be just a model, it's necessary to be a role model – a personality with a character that goes beyond all cliches.
So what fate awaits Molly and her co-workers with an atypical appearance? Naturally, a resounding success, because they got "in the wind", and the number of malicious comments will decrease with time. Why? The whole answer lies in the simple truth: Hayters will simply get used to specific persons. Lindsay Wickson and Daphne Gronewald first also Keithly, but now they can no doubt be considered part of the gold fund of the model industry.
It is important to remember that all this is nothing more than a marketing move. After all, a model with an unconventional appearance attracts attention to the collection and the brand as a whole is much more effective. On the other hand, this is an opportunity to give hope to a 13-year-old schoolgirl, who will be much easier to accept herself now.
---
Collage on the cover – Angelina Fenchenko