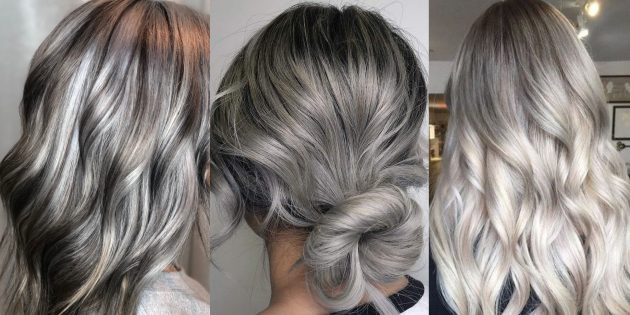 Read Time:
1 Minute, 29 Second
Live coral, silver, tinsel, cream soda and other options from the best colorists in the world. Choose yours.
Silver and ash
Good news for those who are tired every three to four weeks to win the treacherous gray hair, again and again making its way to the roots. Silver-colored hair with an ash tint is back in fashion again.
An important point: the natural color does not mean that it will save. To get really beautiful silver on your hair, you will need to first lighten them to at least 9-10 tones, and then apply, most likely, not one specific dye, but a mix of several shades.
Only a professional hairdresser who will assess the condition of your hair and guess how silver will fall on your previous color will be able to pick them up correctly. Be sure to consult with a specialist and about the method of coloring: hair will look more interesting if you paint it in the technique of sombre or balayazh.
Cream soda
One of the most trendy shades of the year! Colorists get it by mixing beige, brown, gold and caramel tones. The result is a color that resembles sparkling champagne – sparkling, iridescent, not too warm, but not too ashy.
From the description it is already clear that only a professional hairdresser will cope with it, right?
Dirty blond
He is the "grown roots". Ideally, the roots and the main hair color will not be too contrasting: in 2019, trend is natural.
Tinsel
Quite fresh (it was presented literally before the New Year holidays), but an extremely topical painting technique. The bottom line is that to the main – usually light and glossy – hair tint are added contrasting glare – pink, purple, green, coral, in general, to your taste.