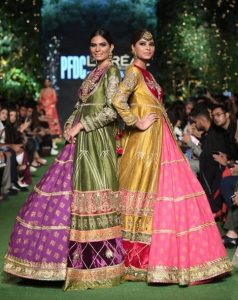 Read Time:
1 Minute, 37 Second
With the excitement of the winter season on it's way, the wedding season kicked off with a three-day style extravaganza for all the stunning brides.
So, we picked out 5 bridal wear developments from 5 designers from the PFDC L'Oreal Bridal Week 2020. Their bridal collection were curated from eastern, to mughal to traditional art work.

HUSSAIN REHAR: PUNJABI TOUCH
Hussain Rehar's fall/winter bridal collection "Fateh Pur" is a beautiful blend of layering, fabric, subculture, royalty and drama. We noticed that his collection flaunted the "Pishwas" – garment inspired from the Mughal Empire embellished with motifs and bright colours making it visually appearling.
.
NIDA AZWER – MUGHAL ARCHITECTURE
Nida Azwer showed loyalty to her love towards miniature art and Mughal structure in her "Anarkali" collection in the shape pishwas, kalidars paired with chooridas and ghagras in ambitious and deep colorings made with loads of quality detailing in wasli's, got a, reflect work etc.

MOHSIN NAVEED RANJHA – EASTERN CULTURE
MNR's birdal series "Chahar Bagh" is stimulated from the deep rooted love in Islamic art and architecture. We saw a whole lot of layering, gotta paintings and the detail of eastern royalty to his pieces the usage of the entire color palette exhibiting the japway of life in all its glory.

SAIRA SHAKIRA – FEMININITY
Saira Shakira's bridal collection "Kali" was lovely ode to pastels that still toyed with purple and maroon, but it in no way strayed from the splendorat the back of a woman's evolution from a young girl to a bride with specific and elaborate info of chatta patti, sequins and crystals in robes made in silk and jamawar.

AHMAD SULTAN – DRAMATIC SLEEVES
Ahmad Sultan's bridal collection, "La Vi En Rose" included the conventional garment with cutting-edge cuts and. The spotlight in his complete collection is the blend of dramatic sleeves with layering and frills, giving his collection feminine and complex vibes.